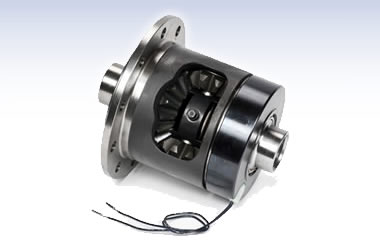 2/4/2013 - News
Auburn ECTED Max-Locker Differentials Now Available at Summit Racing Equipment
Select the traction control of a limited-slip differential or the full-on power delivery of a full locker with the flick of a switch.


Why They're Cool: The ECTED Max-Locker is an electronically controlled, mode-selectable differential. It is controlled by an on/off switch mounted near the driver. In the "off" position, the Max-Locker acts like a conventional limited-slip—as torque increases, the separating forces within the differential gears increase, compressing the clutch pack and sending torque to both wheels.


Flipping the switch to the "on" position activates an electromagnetic coil in the differential, which engages the pilot cone with the differential case and applies force to the side gears and center block. That compresses the clutch pack, creating a solid, locker-style axle assembly.


Other features include:
• Aircraft quality, 9310 heat-treated billet steel gears
• Can be switched on or off "on the fly," at any road speed
• No shift forks or pins that must be lined up to obtain locker mode
• Quiet operation in locker mode
• Can be used in front axle applications, with or without locking hubs
• One-year limited warranty


Applications
• GM 12-bolt (truck and passenger car) and 10-bolt (8.5 and 8.6 inch)
• Ford 8.8 inch
• Dana 30, 35, 44 (including Jeep JK), and 50
• AMC Model 20


Product Link: http://www.summitracing.com/search/product-line/auburn-gear-ected-max-locker-differentials?autoview=SKU&keyword=Auburn%20ECTED