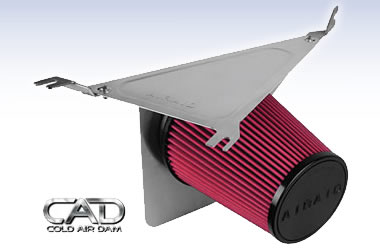 3/1/2013 - Media
Airaid U-Build-It Airboxes for 1967-69 Camaro/Firebird Now Available at Summit Racing Equipment
Create a custom first-gen F-body air intake and start feeding your carburetor cold, dense air.


What They Are: Airaid U-Build-It Performance Airboxes
Why They're Cool: An air intake system that gives you the benefit of power-building airflow, no matter how crowded your engine bay is. These airboxes are the foundation of a custom air intake system that you build yourself, allowing you to route the tubing's path to suit your particular engine combination.


Part of Airaid's exclusive U-Build-It (UBI) system, the airboxes can be mounted away from engine heat and connected directly to your carburetor with Airaid's intake tubes (sold separately). The result is a cold air intake that improves combustion while building horsepower and torque. They feature high-flow red filter elements that provide excellent filtration without restricting airflow.


Applications: Available for 1967-69 Camaro/Firebird, 6- or 8-cylinder, using Airaid's three or four inch diameter UBI intake tubing.


Where to Get Them: Order online at SummitRacing.com or call Summit Racing at 1-800-230-3030


Other Stuff Worth Knowing: Complete your air system build with Airaid's U-Build-It Intake Tubes. The modular system consists of pipes and elbows of varying diameters and angles that fit together to create a seamless airflow path to the carburetor.