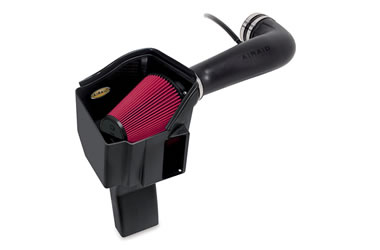 7/1/2013 - Media
Airaid SynthaMax MXP Air Intake Systems: Big Airflow for Your Truck
These cold air intake systems deliver more airflow than stock air intakes. More airflow means more power for hauling, towing, and passing.


Why They're Cool: The Airaid SynthaMax MXP Series systems feature a one-piece, roto-molded air box that replaces the restrictive factory air box, which has baffles that hinder airflow. And more airflow means more power-building oxygen gets into your engine. The MXP systems' large diameter, high-density polyethylene air intake tube maintains proper air/fuel ratios, so no ECU recalibration is required.


The MXP systems are topped off with Airaid's SythaMax air filter. This high flow filter is made from synthetic material that does not need oil to trap dirt and debris. When the filter is at capacity, just wash it in ordinary detergent and let it air dry for reuse.


Applications
• 1999-2013 Chevy/GMC/Cadillac truck and SUV, gas and diesel
• 2003-12 Ford F-250/350/450/550 Super Duty, 2003-05 Excursion, Powerstroke diesel
• 1994-2012 Dodge/Ram pickup, gas and diesel
• 2007-13 Jeep JK
• 2005-13 Toyota Tacoma, 4Runner, FJ Cruiser
• 2004-12 Nissan Titan/Armada, 2004-10 Infiniti QX56


Link to All SynthaMax MXP Intakes: http://www.summitracing.com/search/product-line/airaid-synthamax-mxp-series-intake-systems?tw=AiraidSyn&sw=AiraidSynthaMaxMXPSeriesIntakeSystems