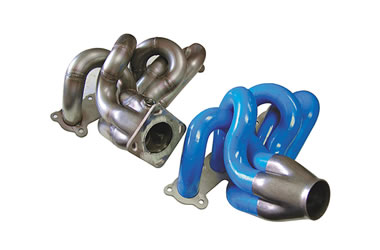 5/9/2011 - Media
Design Your Own Headers with ICEngineworks
Imagine being able to design and fabricate your own exhaust headers without needing a degree in computer modeling or hours and hours of wasteful "cut and try." It's no longer a—well, a pipe dream. An ICEngineworks Header Modeling Kit from Summit Racing Equipment gives you the tools to create a set of headers for any engine in virtually any chassis. If you can snap plastic building blocks together and do basic math, you can make your own headers.
How ICEngineworks Works
The basic kit consists of 1" long, reusable straight and curved blocks molded to a specific OD. The curved blocks have a consistent radius that represents round sections of exhaust tubing. The only other components you need are header flanges with stubs (for attaching the kit's starter blocks) and collectors mocked up in their approximate locations.
By choosing and snapping the individual blocks together for each primary runner, you can create a 3-D header design in about an hour right on the engine. If a runner doesn't look right or interferes with another component, just unsnap the blocks and rearrange them until you get the desired result. The only design limits are your chassis configuration and your imagination.
When you finish the header model, record your design section by section on the provided Metal Control Sheets. These sheets become the blueprints and bill of materials to transfer the model to actual metal tubing.
From Model to Metal
The ICEngineworks system is based on standard, readily available J- or U-exhaust bends. There is no need to calculate partial angle bends or fabricate tubing—just match the runner sections from your Metal Control Sheets to the appropriate U- or J-bend of the same OD and radius. The Metal Control Sheet lets you label each section by cylinder, its position in a runner, and orientation via the witness lines embossed on each modeling block.
You can fabricate the headers using a vertical band saw and ICEngineworks' Pivoting Table Attachment and Tube-Cutting Spacers. Just place a section of plastic blocks from your model around the appropriate spacer on the Table Attachment, then align the spacer against the saw blade. Tighten down the fixture, replace the section of blocks with a matching metal bend, and cut. Repeat the process until you have all the necessary metal bends to build the header.
ICEngineworks kits are available for 1 5/8",1 3/4", and 2" OD primary tube sizes. You even can mix and match blocks from different kits to create stepped header designs.


ICEngineworks even has special Tack Welding Clamps that let you join and adjust the metal sections to insure everything fits as designed. Working runner by runner, replace each model block section with the metal version and tack-weld the sections together. You can finish-weld the headers yourself or have a shop do the job for you.


SEE ALL ICENGINEWORKS HEADER MODELING KITS AND COMPONENTS AT SUMMIT RACING