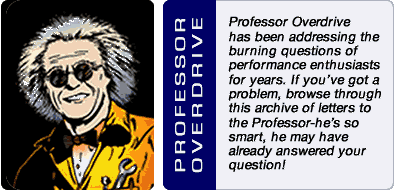 Please explain proper air delivery.
Air Delivery
For maximum horsepower, the coolest, most dense air possible should be available at the carburetor inlet. Keeping restriction in the inlet path to a minimum - or better yet, pressurizing the air - is also desirable. The denser the air, the more you can get into the cylinders. This allows the engine to burn more fuel and make more power. We recommend that a hood scoop or outside air intake should be installed wherever rules allow. Under hood air is heated by the engine and headers and reduces the amount of power that can be produced.

There should be a minimum of three inches of clearance between the top of the venturis and a hood scoop. If an air cleaner is installed, the tallest possible element is preferred with four inches being the minimum suggested height.

When a hood scoop or external air intake is used, it is essential that the carburetor be sealed to it. Otherwise, air will flow across the top of the carb and out of the inlet tract rather than into the air horn. If air is forced past the carburetor it will siphon fuel, causing the engine to run lean. Windshield snorkels are especially notorious for siphoning unless the rear is sealed. Air pan kits for sealing the carburetor to the scoop are available or they can be fabricated from sheet metal and foam. In all cases, an air bell or radiused intake should be used whenever possible to increase air flow into the carburetor.

A Drag race car will not pick up ET after the scoop is sealed off if the scoop is too short or the fuel delivery system is inadequate. However, it's not unusual for a car to improve ETs by 3/10 of a second and increase top speed by as much as seven miles an hour after installation of a sealed scoop. Depending upon track length, oval track cars will typically improve lap times by 1/10 to 1/2 seconds once an optimized air intake system is installed.