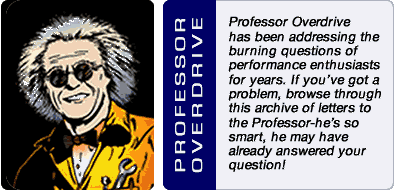 How do I choose a carb for a supercharger?
Carburetion: At full throttle a blown engine can require 50% more air than an unblown engine and as a result needs a larger carburetor(s) in order to produce full power. If your blown engine is primarily driven on the street at moderate engine speeds (under 4000 rpm), you won't need a larger carburetor(s). However, to make maximum power and boost you will usually need a larger carburetor(s).

Typically the carburetors(s) will need to be enriched by 5 to 10% on the primaries and 10 to 20% on the secondaries. The idle mixture screws may need to be enriched by one or two turns. In either case, the carburetors need to be jetted properly to prevent a lean condition. A lean condition can lead to overheating and detonation.

For initial start-up, it is better to have a slightly rich condition to help prevent the engine from overheating. After initial start-up, check the spark plugs for proper reading (color) and adjust the carburetor(s) accordingly. You want to see a medium to dark tan color.