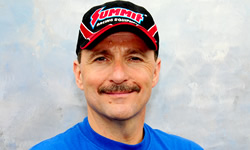 Pete Berner Bio | Latest News
Berner to Compete in IHRA Pro Stock Shootouts
The rumor mills have been abuzz about the return of Mountain Motor Pro Stock to the IHRA. But the rumor is now reality as the IHRA recently announced that Pro Stock would be featured at two of its Nitro Jam events this year. Pete Berner and the Summit Racing Equipment team will be among four teams competing in the Mountain Motor Pro Stock Shootouts at the Mopar Nitro Jam Nationals (Grand Bend, Ontario), July 19-21 and the CarSafe Northern Nitro Jam (Martin, Michigan), August 9-10.


"I'm really looking forward to racing again at what was the home of Mountain Motor Pro Stock," Berner said. "I know that Pro Stock is a favorite class for many drag racing fans and I hope they are as glad to see us back at IHRA as we are to go back.


"The last time we ran the quarter-mile, we set the World Record (6.209 seconds, Englishtown 2010)," continued Berner. "With the car and power we have now, we've surpassed our eighth-mile time on that record setting run. Depending on the conditions, we might have the opportunity to reset it again."


Mountain Motor Pro Stock cars feature 900 cubic inch naturally aspirated engines—no superchargers, nitrous oxide, or other power adders are allowed. The cars are capable of running the quarter-mile in 6.20 seconds at speeds over 220 miles per hour.


The Mountain Motor Pro Stock Shootouts will be run as an exhibition series. Racers will compete in a Chicago-style format, where the cars are paired up and make two runs, with the two quickest cars coming back for a final round matchup.


"We'll have some of the fastest Pro Stock cars in the world," Berner elaborated. "Fans will certainly not be disappointed. This is a great chance to showcase our heritage in front of the IHRA fans and will be a good move for our class and for the sport."


Berner is especially thrilled about competing at the Northern Nitro Jam at U.S. 131 Raceway, where the team often tests between races.


"We always look forward to racing at US 131," said Berner. "Even just testing there, we have fans come out to show their support. I'm sure the Pro Stock and Summit Racing fans in that area will be happy to see the return of Pro Stock to IHRA. I know that I and my team are excited and looking forward to what the future holds."


For more information on the IHRA Nitro Jam Series, visit www.ihra.com.