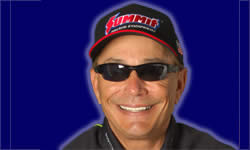 QUICK FACTS
Voted One of NHRA's Top 50 Drivers of All-Time (Number 6): 2001
4 NHRA Funny Car World Championships (1985-88)
2 NHRA Top Fuel World Championships (1996, 2001)
1 IHRA Funny Car World Championship (1979)
69 Career NHRA Victories (30 Funny Car, 39 Top Fuel)
17 Career IHRA Victories (16 Funny Car, 1 Top Fuel)
2 Career AHRA Victories (Funny Car)
First NHRA Driver to Break the 300 mph Barrier: 1992
First to Win Championships in Top Fuel and Funny Car
First Driver to Win Events and Set Records in NHRA, IHRA, AHRA During One Season: 1981
First Team Owner to Collect Wins in NHRA, NASCAR, and CART
Inducted Into Texas Motor Sports Hall of Fame
Inducted Into Don Garlits International Drag Racing Hall of Fame
3 U.S. Nationals Victories
Earned 66 NHRA Number One Qualifying Positions
CAREER OVERVIEW

Kenny Bernstein was ranked sixth on NHRA's list of the Top 50 Greatest Driver of All Time (2001), but more often than not, Bernstein has been first. He was first to break the 300 mph barrier, first to win NHRA championships in both Top Fuel and Funny Car, and first to collect wins in NHRA, NASCAR, and CART as a team owner.
Bernstein's ground-breaking career in the late 1960s by racing Top Fuel dragsters and Funny Cars in and around Texas. He was in and out of racing during the 1970s-he spent much of his time founding and managing a chain of restaurants called Chelsea Street Pubs-but became a full time NHRA racer in 1980 with a full sponsorship from Budweiser.
Bernstein dominated the NHRA Funny Car class during the mid-1980s, winning four straight championships from 1985 to 1988. During that time, he became the first Funny Car driver to break the 5.50 second barrier, the 5.40 second barrier, and 270 mph mark. He also used his business experience to start a NASCAR Winston Cup stock car team and his King Motorsports Indy Car team.
In 1990, Bernstein moved to the Top Fuel class. He earned two more NHRA World Championships (1996 and 2001) to become the first person to win NHRA championships in both fuel categories. Bernstein also gained the nickname "King of Speed" when he broke the 300 mph barrier in 1992 and the 310 mph barrier in 1994. Following his famous "Forever Red...A Run to Remember" tour in 2003, Kenny Bernstein retired from the cockpit with 88 career wins (NHRA, IHRA, AHRA) and six world championships (NHRA, IHRA). In 2004, he handed over driving duties of his Bud King dragster to his son, Brandon.
In 2007, Bernstein staged a brief comeback, piloting the Monster Energy/Lucas Oil Dodge Charger Funny Car to two runner-up finishes. Although he announced that Tommy Johnson Jr. would take over Funny Car driving duties in 2008, Kenny Bernstein remains one of the drag racing's greatest drivers of all time.