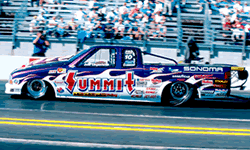 John Lingenfelter Bio | Latest News
"Summit Racing Equipment-John Lingenfelter Memorial Fund" Created
Long before he passed away on Christmas Day 2003, John Lingenfelter was known for his legendary work with small block Chevy engines and his success on the dragstrip. But his wife, Cindy Lingenfelter, fondly remembers another side of her husband.
"He was very supportive of young people that were starting out their careers," she said. "He was just a very positive and encouraging person."
To honor John's support of young automotive and racing enthusiasts, Summit Racing Equipment has created the Summit Racing Equipment – John Lingenfelter Memorial Fund for Engineering Excellence at Penn State University. The new endowment fund will support the Society of Automotive Engineers Formula Racing Team within the College of Engineering at Penn State University.
Summit Racing Equipment has made an initial contribution to help provide critical resources for the team, including tools, equipment, and vehicle materials. Over the next several years, the company hopes to obtain additional contributions to help support the program.
"John Lingenfelter was a true pioneer in the racing and high performance automotive industry," said Ray Tatko, Summit Racing Equipment President. "We are pleased to team up with Penn State University to help preserve his legacy and support the next generation of automotive and racing pioneers."
The SAE Formula Racing Team is a hands-on program in which students design and build small Formula-style racing cars as part of a national engineering competition.
"The creation of this endowment will not only be a lasting tribute to Mr. Lingenfelter's lifelong passion for high performance engineering, it will also inspire and encourage Penn State students to be innovative and test their limits and skills in automotive engineering," said John Lamancusa, Professor of Mechanical Engineering and SAE Faculty Advisor at Penn State.
Those wishing to make a contribution to the Summit Racing Equipment – John Lingenfelter Memorial Fund may send a check payable to Penn State to: Marc McMullin, Director of Major Gifts, Penn State College of Engineering, 101 Hammond Building, University Park, PA 16802. For more information about donations, they can log on to SummitRacing.com/LingenfelterFund or contact Marc McMullin at 814-863-3674.