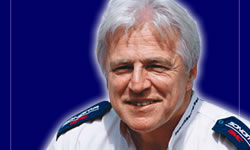 John Lingenfelter Bio | Latest News
QUICK FACTS

• Took home 10 career national event wins in NHRA's Competition Eliminator class
• Became the first ever Competition Eliminator driver to break the six-second quarter-mile barrier
• Finished second in the NHRA Summit Sport Compact Drag Racing Series Pro Class points standings in 2002
• Finished second in the Winston points standings in Pro Stock Truck in 1998
• Founded Lingenfelter Performance Engineering and became renowned for building small block Chevy engines
• Built the twin turbocharged small block Chevy engine for the famed Reeves Callaway "Sledgehammer" Corvette project in 1988
RECORDS
• Best ET in NHRA Pro Stock Truck: 7.393 seconds Pomona, CA, 2001
• Top Speed in NHRA Pro Stock Truck: 182.75 mph Pomona, CA, 2001
• Best ET in NHRA Sport Compact Pro: 7.19 seconds, Woodburn, OR, 2002
• Top Speed in NHRA Sport Compact Pro: 186.90 mph Reading, PA, 2002
• Sport Compact Wins/Finals: 1/3
• Pro Stock Truck Wins/Finals: 1/4
• Competition Eliminator Wins/Finals: 10/24
• Super Stock Wins/Finals: 3/4
PERSONAL
Date of Birth: 10/6/45
Place of Birth: Altoona, Pennsylvania
Wife: Cindy, married 7/9/99
Children: Kerri Ross and Kelly Kline
CAREER OVERVIEW

John developed a true passion for racing behind the wheel of his first car, a 1940 Ford. After high school, he attended Penn State University and studied mechanical engineering and drafting, then worked in the engine lab at International Harvester until 1973. John actively campaigned in NHRA Super Stock, Stock, and Competition Eliminator classes in the 1970s. He won 13 national events along the way and became the first ever Comp Eliminator driver to break the six-second quarter-mile barrier.
John left racing to found Lingenfelter Performance Engineering. Located in Decatur, Indiana, the shop is renowned for getting maximum performance out of small block Chevy engines. He returned to NHRA drag racing in 1997 to run exhibition races in NHRA's fledgling Pro Stock Truck class. He finished second in the Pro Stock Truck points standings in 1998, the first official year of competition for the new class.
In 2002, John fielded a GM ECOTEC four-cylinder-powered GMC Sonoma and Chevy Cavalier in the NHRA Summit Sport Compact Drag Racing Series. He won one national event and had two runner-up finishes up until the Mazda NHRA World Finals in October 2002. During the event, John sustained serious injuries in an accident and dies in December 2003 as a result of complications from subsequent surgeries.
John Lingenfelter's legacy includes 15 NHRA national event wins, Lingenfelter Performance Engineering, and his family. "I just want everyone to know how much John loved what he did," his wife Cindy explained. "He had a real passion for cars, and he truly loved being around the people at the track."