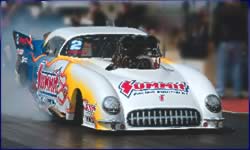 Jim Oddy Bio | Latest News
Al Billes/Jim Oddy Update 2/17/2005
The Summit Racing Equipment-sponsored Jim Oddy Pro Mod racing team is proud to announce that they have come to terms with veteran Canadian Pro Mod team owner and driver Al Billes to replace the retired Fred Hahn as driver for the team.
"I just can't imagine a better person or driver to fill Fred Hahn's position on the team," said team owner Jim Oddy. "I've known Al since he started driving, I sold him engines when he first started and watched him become one of the best drivers and tuners in Pro Mod. The fact that he finished second in NHRA and IHRA Championship points this season and currently holds the IHRA ET record tells you all you need to know about his talent both as a driver and tuner."
Billes will be much more than just the new driver of Jim Oddy's Summit Racing Equipment-backed car. The 2005 season will see a two-car effort for the Jim Oddy Racing team. Billes' '53 Corvette will be painted identical to Oddy's new Dodge Stratus and will have sponsorship from Oddy Racing's primary sponsor Summit Racing Equipment and major associates Isky Racing Cams and Blower Drive Service and all other associates.
The 'Vette will compete in selected races on the AMS/NHRA circuit and in Canada with an engine program developed using NHRA rules. The team's 2005 Dodge Stratus will compete for the IHRA World Championship and have a dedicated engine program based on IHRA rules. Billes will drive both cars.
"We will race both cars but our main efforts will be to win the 2005 IHRA World Championship for Summit Racing Equipment and all of our other sponsors," said Oddy.
Oddy, based in Elma, NY, and Billes, from Barrie, Ontario, Canada, both will retain their own races shops and dyno facilities in order to prepare and maintain both cars at championship levels.
"I can't tell you how excited and proud I am to be chosen by Jim to drive for his team," said Billes. "I just want to race and win a World Championship. I think driving and working with Jim and the rest of the Summit Racing Equipment team gives me the best opportunity to do that I've ever had. I do have one personal goal and that is to be the first Canadian Pro Mod driver to win a World Championship. I think driving for Jim can make that happen."
The team plans to get both cars and engine programs race ready then begin pre-season testing early in 2005 to get Billes and the team comfortable and familiar with each other. The new Stratus will debut at the first IHRA race of the season, March 31, in San Antonio, Texas.
"Our goals for next season are the same as they were last season and every season that I have raced," said Oddy. "To win races, have fun and if possible win a championship for our sponsors."
Major sponsorship for Jim Oddy Racing in 2005 comes from Summit Racing Equipment; major associates include Isky Racing Cams, Blower Drive Service, Red Line Oil, Hoosier Tires and MSD.