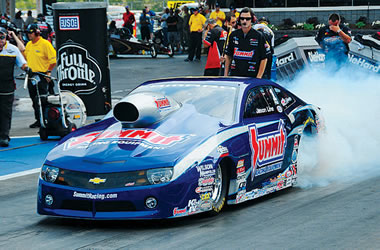 Jason Line Bio | Latest News
Line Starts the Year with Big Winternationals Win
Jason Line had his work cut out for him at the 54th annual Circle K NHRA Winternationals, the first race of 24 in NHRA's 2014 Mello Yello Drag Racing Series. Line was racing for the first time without Summit Racing teammate Greg Anderson, who is on the mend following surgery and miss the first six races.


True to his resilient nature, Line accepted the challenge and won the event in a final round match with V. Gaines. The victory was Line's 66th career final round and his 32nd Pro Stock victory. Adding an extra note of triumph was the fact that Line was driving the same Summit Racing Camaro he crashed in testing late last season.


"It's a huge deal to start off the year like this," Line said. "This is a big deal for the Summit Racing team. We worked hard over the winter, and I think we really made some progress. The sport is crazy competitive right now, but we're certainly off to a good start."


"The KB Racing team was great this weekend," Line continued. "We all pitched in and worked together. Jimmy Alund [who is driving Anderson's Summit Racing Camaro for the first six events] was a great help as well. He's a very capable guy and was certainly an asset to us this weekend, no question."


Line qualified third with a 6.514 second, 212.63 MPH pass. Matt Hartford, he Round One opponent, was nearly psychic at the starting line with a .004 second reaction time to Line's .051. But Line had the horsepower to trip the win light, 6.548/211.43 to Hartford's 6.615.209.30.


Line went on to beat Dave Connolly in Round Two (6.536/212.06 to 6.544/212.06) and Shane Gray in the semi-finals (6.527/212.23 to 6.541/211.79) to reach the final round. Line and opponent V. Gaines have met in two previous final rounds, each winning one. The two had nearly identical launches, but Line combined a .003 second edge with his best run of the day to take the win, 6.526/212.06 to 6.541/212.56.


Line gave credit to teammate Greg Anderson for the long-distance advice and moral support.


"I talked to Greg this morning (before final eliminations), and he gave me strict instructions," said Line. "When I talk to him tonight, I'm pretty sure he'll be happy with me. I'm glad Greg is getting better, and I'm indebted to him for giving me the opportunity so many years ago that nobody else would have."