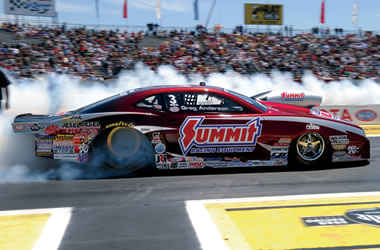 Greg Anderson Bio | Latest News
Anderson Ready to Build on Strong Pomona Run
Greg Anderson made an exceptionally strong run in the first round eliminations at the Auto Club NHRA Finals. After qualifying 11th (6.576/210.37), he clocked a stout .019-second reaction time and ran a 6.527/212.09 to defeat V. Gaines. That pass was the third quickest of the round, and one of the best Anderson has had all season. Unfortunately, he could not repeat the performance in the second round thanks to traction issues just off the starting line, handing the win to Rickie Jones.


"That was probably the best run I've made all year," said Anderson of his first round performance. "It felt great to get that ET slip after that first run. Even though our success didn't continue today, it was still a major breakthrough for the Summit Racing team. We are finally getting some performance out of my Summit Racing Chevy Camaro."


"We're going into the off-season on a positive note," Anderson continued. "We have something under the hood and we plan to keep building on that. We've got a lot of work to do this winter, a lot of things to change, but we will definitely be better next year. We're looking forward to the challenge."


Anderson finishes the 2013 season in eighth place in the points standings.