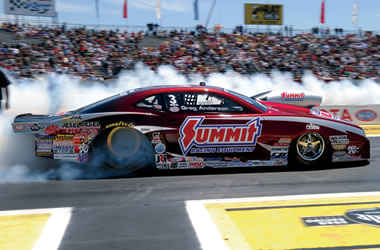 Greg Anderson Bio | Latest News
Anderson Closer to Reaching the Top 10
Greg Anderson was certainly hoping to add a Wally to his collection at the Mile-High Nationals. While that didn't happen, he and the Summit Racing team tapped into a surge of horsepower that will be critical to winning the rest of the season.


Anderson qualified fifth with a 6.937/198.44, his best start so far this season. He knocked out Matt Hartford in the first round of eliminations with a .019 second reaction time, 6.976/197.94 to Hartford's 6.971/198.12. Anderson's day ended in a Round Two loss to Jeg Coughlin, Jr., 6.971/197.65 to 6.944/198.44. Anderson did earn 20 more points in his quest to break into the Top 10. He is currently 11th and just 23 points away from moving up to 10th.


"We were very excited to have made such gains here in Denver," said Anderson. "This is not an easy place to race these Pro Stock cars because of the high altitude conditions, but we did very well, and I'm very happy."


"I came into Sunday thinking I had a car that could win, and that is a great feeling to have," Anderson continued. "I have a lot of confidence that the gains that we've made will carry through to Sonoma next week and then beyond. We did our homework, we worked hard, and we feel good. I really feel that we've turned a corner.