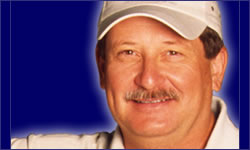 Frank Hawley is probably best known as the founder of America's original drag racing school, but his legend was created as driver for the famed Chi-Town Hustler team of the early 1980s.
Hawley began his drag racing career in 1976 and drove to two IHRA event finals in 1979 before joining the Chi-Town Hustler Funny Car team in 1981. As a member of the Chi-Town Hustler team, Hawley started winning immediately on the match-race circuit and earned fans with his half-track burnouts. In 1982, Hawley and the Chi-Town crew competed on the NHRA circuit with limited funds and won the NHRA Funny Car championship against the likes of Don Prudhomme and Raymond Beadle. The team successfully defended its championship in 1983 and also won the prestigious Super Stock Nationals and Popular Hot Rodding Championships.
Following the 1984 campaign, Hawley retired from full-time drag racing and opened the Frank Hawley NHRA Drag Racing School. Frank Hawley's legacy includes two NHRA Funny Car Championships, seven NHRA Funny Car national event wins, and two NHRA Top Fuel wins when he returned to the dragstrip from 1988 to 1990. It also includes the likes of Larry Dixon, Whit Bazemore, and Melanie Troxel--all of whom attened the the Frank Hawley school.