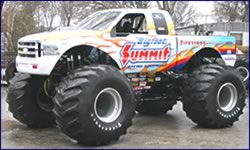 Dan Runte Bio | Latest News
Dan Runte and BIGFOOT #18 Set New Long Jump World Record
Probably the most anticipated event of the 2012 Indianapolis 4-Wheel Jamboree Nationals--and arguably of the entire 2012 outdoor monster truck season--was Dan Runte's attempt to regain the Guinness World Records' Longest Ramp Jump by a Monster Truck record in the brand-new Summit Racing/BIGFOOT #18.


Runte's previous distance of 202', set in 1999 behind the wheel of BIGFOOT#14, stood firmly until 2010 when it was eclipsed by just over six feet by another truck. Runte and the entire BIGFOOT team knew that BIIGFOOT #18 would be the best horse in the stable to regain the title.


Following a warm-up jump to test out the ramp and the truck's suspension setup, then an aborted run due to a visibility issue with the take-off ramp, Runte brought the fans, teammates, and sponsors to their feet with a massive high-speed takeoff that harkened back to his 1999 record attempt.


With Runte winging the throttle to maintain the truck's angle of attack, the truck came in for a nose-first landing. Everyone held their breath as 4-Wheel Jamboree officials rushed to the landing sight to mark the impact point and establish an initial measurement.


While waiting for the announcement, the crowd knew by the BIGFOOT team's reactions that the old 208' record had been shattered. Officials then triumphantly announced that Dan Runte and BIGFOOT #18 had flown an astonishing 214' 8"!


Runte drove away without issue and, as if to put a cherry on top of the weekend, Runte then took BIGFOOT #18 out for an encore freestyle performance. BIGFOOT #18 is the first truck on the team to have a Concussion Motorsports chassis. It withstood all the abuse so well that Team BIGFOOT ordered a new one the next day.