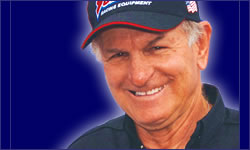 QUICKFACTS
Voted "Number 1 Drag Racer of Last 50 Years by NHRA": 2001
17 World Championship Titles
8 U.S. Nationals Championships
144 National Event Wins
Top Speed: 323.04 mph
Low ET: 4.720 Seconds
Designed and Built the First Championship Rear-Engine Dragster
First Dragster to Break 170, 180, 200, 240, 250, 260, and 270 mph Barriers
Car Craft Magazine Man of the Year: 1969, 1971, 1972, and 1973
Car Craft Magazine All-Star Team, Top Fuel Driver of the Year: 1969, 1970, 1972, 1973, 1975, 1976, 1977, 1978, 1986
Car Craft Magazine All-Star Team, Chassis Builder of the Year:1970 and 1971
American Hot Rod Association (AHRA) Fuel Driver of the Year: 1971, 1972, 1973, 1974
Founder and President of Professional Racers Organization (PRO): 1972-76
Inducted into Motorsports Hall of Fame, Talladega, Alabama: 1985
Inducted into Motorsports Hall of Fame, Novi, Michigan: 1989
Inducted into Hot Rod Magazine Hall of Fame: 1997
CAREER OVERVIEW

Since his retirement from drag racing in 2003, "Big Daddy" Don Garlits has lived his life just like he raced-full speed ahead. The legendary Top Fuel driver has worked as a TV commentator for ESPN's race and car show coverage. He's co-written a book about his racing career: Tales from the Dragstrip with "Big Daddy" Don Garlits. His true passion, though, has been tending to the Don Garlits Museum of Drag Racing, the museum he opened in Ocala, Florida in 1976.
In his 53 years of drag racing, "Big Daddy" Don Garlits piled up enough achievements and accolades to fill his museum all by himself. He began racing in 1950 and scored his first major victory in 1955. His first AHRA national event victory--the first of "Big Daddy's" 144 national event wins--came in 1958 at the AHRA Nationals in Great Bend, Kansas. His first NHRA national event came in Top Fuel at the 1963 Winternationals in Pomona, California. His legendary career included 17 World Championships-10 AHRA, 4 IHRA, and 3 NHRA- and eight U.S. Nationals.
During his career, Don Garlits was the first to break the 170, 180, 200, 240, 250, and 270 mile-per-hour barriers. He also single-handedly changed the course of Top Fuel drag racing with his revolutionary rear-engine dragster design still used on today's dragsters. In 2001, he was voted the "Number 1 Drag Racer of the Last 50 Years" by the NHRA.
Don Garlits made his last official pass on a drag strip as a member of Team Summit in 2003, but his passion for drag racing remains alive and well at his museum. Featuring almost 300 cars, including most of Don's venerable Swamp Rat dragsters, the museum is filled with memorabilia dating back to the birth of drag racing. "You can follow the sport back to the 1940s," Don said, referring to the museum. "It's amazing to see how far drag racing has come, how much faster cars are going, and how technology has changed the sport."
And no one has contributed more to the evolution and growth of drag racing than "Big Daddy" himself.