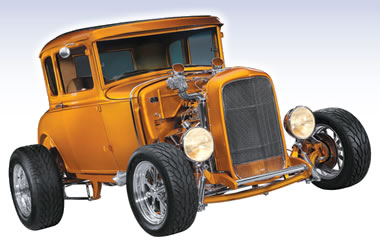 8/2/2013
Timeless: Mike Snode's 1930 Ford Coupe

Every hot rod build has its story: some are basket case barn finds, and others are passed down through the family, but in the case of Mike Snode's 1930 Ford coupe, it was just a matter of time. Fifty years to be exact.
"My dad drove me to school every day when I was a kid, and every day we'd pass by the local clock shop—a place called The Time Shop," recalls Mike. "The owner always parked his Model A—this Model A—out front. And as we went by, I'd tell my dad 'One day I'm gonna own that car.'"
Decades passed since Mike's school days in Zanesville, Ohio, and the keys to the coupe changed hands several times, but when an opportunity to make good on his promise came knocking, he wasn't about to let it slip away.
"A friend told me that he spotted the coupe for sale just outside of town, and I knew I had to see it for myself," says Mike. "When the owner opened up his garage, it was like looking back in time! It was just how I remembered it, right down to the butterscotch and brown two-tone paint job. You don't forget something like that."
After agreeing on a price, Mike pushed the Model A onto his trailer and hauled it back to the garage, but not before scrawling "FATHER TIME" in spray paint down the side of the car as a tribute to Glendon Brown, owner of The Time Shop.
Not wasting any time, Mike separated the body from the frame, and it was apparent that the ravages of time and a half-dozen previous owners had taken their toll on the 70-year-old Ford. "I'm pretty sure that the paint was the only thing holding it together," chuckles Mike. "It had at least nine coats! Black, white, red, yellow, brown...it took two gallons of aircraft stripper just to get it back down to bare metal!"
And with the sheetmetal exposed, sandblasting quickly revealed a lifetime of cosmetic and structural issues. "It was obvious that any previous repair work had been done as cheaply as possible," says Mike. "When I hit the cab with the sandblaster, the metal just disappeared. By the time I was done, you could wiggle and bend what was left with your bare hands."
To reverse all those years of neglect, Mike welded up the see-through sheetmetal, swapped the rotten roof rails for fresh pressure-treated lumber (sourced from the scrap pile in his garage), and exchanged the worn-out wooden floor for stamped steel. Instead of lowering the refreshed cab back onto the original frame, Mike stepped up to a pre-fabbed chassis from Brookville Roadster. Finally, a mile-deep coat of custom-blended House of Kolor Candy Apple Gold was applied to give the coupe's classic shape a modern finish.
With the bodywork perfected, Mike turned his focus to the jewel that's now tucked neatly behind the coupe's '32 grille, taking a good ol' small block Chevy and elevating it into something else entirely with the sort of engineering, ingenuity, and craftsmanship that's usually reserved for a fine Swiss timepiece.
Most hot rodders would be content with the 383's SCAT forged stroker crank, TRW forged flat top pistons, World Products S/R Torquer heads, and COMP Cams Thumpr bump stick, but it's the one-of-a-kind intake setup that puts this motor over the top...literally. Peeking above the coupe's hood line (if it had a hood) is a pair of polished intake scoops, feeding dual 2GC Rochesters, plumbed to—wait for it—another carburetor; this time a 750 cfm Edelbrock Performer.
"I wanted to do something unique, and I think we found it," says Mike, who credits fellow hot rodder Dave Lynn for dreaming up and constructing the coupe's incredible intake. "We've still got a little bit of tinkering to do before it's perfect, but Dave's wheels are always turning," he says.
Mike is hesitant to divulge any specifics on exactly how his stacked carburetor setup works, but rest assured, it does, pumping enough power through the TH-400 tranny and shortened Ford 9" rear end to keep things interesting. "It's mostly a cruiser, but if you need a little bit more, it's got it," says Mike.
The interior decorating was left to Bob Evans of Lancaster, OH, who wrapped the cockpit in a combination of tan and buckskin leather, exchanging the Model A's original bench for a pair of buckets donated from a 1995 Mustang. Showing off his own fabrication and welding skills, Mike created the perfect home for the coupe's Dolphin aqua gauges by grafting the lower half of a 1932 Ford dashboard to the '30's original upper. A Lokar Nostalgia Series double-bend shifter and Billet Specialties Chicayne steering wheel round out the amenities inside.
The result is a seamless blend of classic and cutting edge, combining traditional hot rod cues with one-of-a-kind details. And while Mike's vision is a far cry from the butterscotch and brown Model A of his youth, there's no denying—even after 50 years—that it all came together like clockwork.
Story by: Dan Michaud
Photography by: Maguire Photographics
FAST SPECS
Chassis
Frame: Custom-fabricated 4" x 2" frame by Brookville Roadster
Suspension: Brookville chrome-plated 4-link (front); Brookville stainless 4-link rear with chrome-plated Aldan Eagle coil-over shocks/springs
Rear Axle: Narrowed Ford 9" rear end, Moser Engineering alloy axle shafts
Wheels and Tires: Billet Specialties Altered (front; 15" x 6"), Billet Specialties Vintec (rear; 18" x 9 1/2"); BFGoodrich g-Force T/A KDW tires (205/55R16 front, 285/60R18 rear)
Engine and Transmission
Engine Type: Chevy 383, painted House of Kolor Candy Apple Gold
Reciprocating Assembly: SCAT forged crankshaft, TRW forged flat top pistons, Eagle Specialty Products H-beam rods
Cylinder Heads: World Products S/R Torquer cylinder heads
Valvetrain: COMP Cams Thumpr camshaft, roller lifters, and valve springs; World Products stainless steel valves
Induction: Edelbrock Performer 750 cfm carb with Endurashine finish, two Rochester 2GC 350 cfm carburetors, Edelbrock Performer intake manifold
Ignition: Mallory Unilite distributor and HyFire ignition box, Mallory Promaster coil, Taylor Pro Wire ignition wires
Cooling: Griffin Street Rod radiator, Tuff Stuff Supercool polished aluminum water pump
Exhaust: Sanderson Limefire headers with custom glasspack muffler inserts
Transmission: GM TH-400 transmission, B&M Tork Master torque converter, Lokar Nostalgia Series double-bend shifter
Other Items: Ron Francis wiring harness, GM Performance Parts High-Torque starter, B&M deep transmission pan, March Performance accessory brackets
Body
Modifications: 1932 Ford grille shell, Pontiac Grand Am third brake light
Paint Color: House of Kolor Candy Apple Gold
Paint Work By: McCombe Body Shop, Columbus, OH
Interior
Modifications: 1995 Ford Mustang seats, 1932 Ford lower dashboard, Billet Specialties Chicayne steering wheel, Dolphin Aqua gauges
Upholstery: Tan/buckskin two-tone leather
Upholstery By: Bob Evans, Lancaster, OH
Special Thanks
My family, Dave Lynn, John Kackley, Mike Maxwell, Ron Harrison, and Anthony at McCombe Body Shop