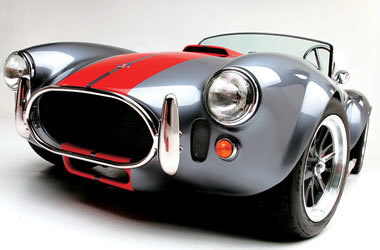 12/21/2012
Just Add Throttle: Summit Racing's Factory Five Mk4 Roadster

"Kit car."

For decades, these words have been whispered at car shows and cruise-ins around the world, frightening children and sending purists back to the garage in fits of fiberglass-induced rage. Often little more than an oddly proportioned shell bolted onto a donor car's existing chassis, many do-it-yourself hot rods miss the mark in both substance and style.

To make matters worse, these unconvincing counterfeits typically aim for the top of the four-wheeled food chain, poorly emulating some of the biggest rides to ever grace a bedroom poster, like the Ferrari Testarossa, Lamborghini Diablo, and the legendary Shelby Cobra.
Of course, with only a handful of legitimate Cobras in existence, it's easy to see the appeal of a homebuilt replica, if only to experience a sliver of the original's unreal combination of power and style at a fraction of the price (expect to pay a cool $500,000 for a well-sorted original 427 Cobra, more for a race winner). And it seems that countless enthusiasts agree. In fact, with fewer than 1,000 Shelby Cobras to ever roll off the assembly line, the amount of kits on the road dwarfs the number of real-deal roadsters.

So where's a discriminating gearhead to turn? How do you get behind the wheel of one of the most epic cars ever created without the epic bankroll to back it up? That's where the folks at Factory Five and Summit Racing come into play. Combining our passion for high performance with Factory Five's engineering expertise, we've recreated one of the all-time greatest sports cars with looks and performance that'll live up to—or surpass—the original. And the best part is we've made it easier and more affordable than ever to put one of these bad boys in your own garage.

First thing's first; Dave Smith, the founder and president of Factory Five Racing, would like you to forget everything you think you know about kit cars, because what he and his team are producing in their Wareham, Massachusetts manufacturing facility goes far beyond any of those Volkswagen-based fiberglass bathtubs from the 1970s.

"Back in 1995, my brother and I wanted to build a Cobra replica, but we discovered that all of the kits out there were pretty terrible," says Smith. "What we've done is apply state-of-the-art CNC technology from the aerospace industry to these dinosaurs, creating something way better and making it affordable."

Give the guys at Factory Five a call and you won't get a complete, ready-to-run roadster. (Where's the fun in that?) Instead, they'll ship you the skeleton of what they're confident is the greatest replica on the road. Just like Carroll Shelby's original Corvette Beater, the Factory Five Roadster—now in its fourth generation—sports an honest-to-goodness tubular frame. Constructed from mandrel-bent steel that's twice as rigid as the original, each frame is jig-welded by hand and delivered as a single assembly. It's the only way to ensure that each meets the sky-high expectations set by one of the world's most notorious sports cars.

"We would have never made it off the ground without the right look," says Smith. "The period-correct styling of the roadster body combined with the visceral sound of that V8 coming through the side pipes is what everyone wants."

What's up to you is how to make it go. Factory Five's basic recipe calls for you to utilize a donor V8 Mustang (1987-2004) to complete the build, from which you'll "borrow" the pony's engine and transmission, rear end, brakes, assorted steering and suspension components, plus a handful of other bits from the fuel, ignition, and electronic systems. Or you can opt for the complete kit, which leaves you on the hook for just the engine, transmission, rear end, and ignition—even less if you check the right option boxes when ordering your kit.

Having three national warehouses full of performance parts at our disposal, you can't blame us for starting with Factory Five's complete kit, rather than pulling apart a junkyard GT. Before taking delivery, we added a handful of options to accelerate the build, including Factory Five's specially designed three-link rear suspension and Moser 8.8" rear axle, huge 12" Wilwood disc brakes at all four corners, polished side pipes, and 17" Halibrand replica wheels.

While the Mk4 Roadster's engine bay accommodates an impressive range of Blue Oval motors, from the tried-and-true 5.0L all the way up to the monster big block 460, we left it up to Jim Schenck, chief engineer at Factory Five, to choose the right set of fangs for our snake.

"In a car this light, it's going to be blazingly fast no matter what engine you put in it," explains Schenck. "The goal here was to pay homage to the original Cobra while adding a modern flair," he says. With that in mind, he selected Ford's potent small block 427 for our roadster—fans will instantly recognize that number as the same amount of cubic inches powering Shelby's original competition-ready Cobras.

With Jim as our guide, we put together a spec sheet that would make Carroll proud: in addition to Ford's Boss 427 short block, we dropped in a Trick Flow Track Max cam, and bolted on a pair of Trick Flow Twisted Wedge 185 heads with 1.6 ratio roller rockers. Topping it all off is a Holley Street Avenger 770 cfm carb and a Summit Racing Street & Strip® Stage 2 high-rise intake manifold.

But we didn't stop there. Adding fire to the fuel is an MSD Digital-6 CD ignition box, Pro Billet distributor, and a Blaster SS coil. Sending all that grunt to the ground is a Ford Racing Cobra R Tremec 5-speed transmission mated to a beefy RAM Powergrip HD clutch and billet steel flywheel.

With every gasket, nut, and bolt accounted for, assembly was left to the capable hands of SKJ Customs in St. George, Utah. No strangers to Factory Five roadsters, Rick Sheley and his crew have been building award-winning SEMA cars for the company since 2008, and they wasted no time knocking together the pile of parts we sent their way.

"This is one bad setup," says Sheley. "The horsepower from that 427 is just endless. It purrs like a kitten around town, but when you mash the gas pedal into the carpet, it'll smoke the tires all day long."

With the chassis and driveline setting the bar somewhere high in the stratosphere, the guys at SKJ aimed their sights accordingly when it came to the body and paint work, turning to none other than Summit Racing 2-Stage paints for the perfect finishing touch (like there was any doubt). After some smoothing, filling, and massaging, the Mk4's composite shell left the paint booth with a fresh coat of Killer Gray Metallic and a pair of vibrant Viper Red racing stripes, looking "superior to anything that ever came from the factory," says Sheley.

Bolt it all together and you've got a budget-friendly, made-to-order legend that'll hang with any of the hot rod heroes from your childhood. "For the price, there isn't a factory Mustang or Camaro that can touch what this roadster will do," says Sheley. "You could take it to the grocery store, then to a car show, and then over to the strip for some ten second quarter-miles!"

Feeling inspired? There's no need to start hunting down part numbers in your Summit Racing catalog, because we've done all of the bookwork for you. That's right—if you're ready to jump into the snake pit and build your own Factory Five Roadster, we're ready to help with our exclusive Factory Five Summit Pro Packs. Formulated in close collaboration with the engineers at Factory Five, these combos include every part we used on our own roadster, and they're all available to you in complete, easy-to-order kits. Pick and choose just the parts you need, or order them all and duplicate our build right down to the last spark plug—all backed by our world famous service and guaranteed low prices. Just give us a call or search "Factory Five" at SummitRacing.com to get started on your own version of the ultimate roadster!

Photography By: Dino Petrocelli Photography
Story By: Dan Michaud


FAST SPECS


Chassis

Frame: Black powdercoated steel 4" round tube main rails with mandrel-bent space frame, laser-cut aluminum chassis panels
Suspension: Factory Five custom independent front suspension and three-link rear, Koni monotube adjustable coil-overs
Rear Axle: Moser 8.8" with 3.31 gears
Brakes: Wilwood slotted disc brakes (12.88" front/12.19" rear), red powdercoated calipers
Wheels and Tires: Halibrand replica wheels (17" x 9" front/17" x 10 1/2" rear), Nitto NT555R Extreme Drag tires (245/45/17R front/315/35R17 rear)
Chassis Assembly By: SKJ Customs, St. George, UT


Engine and Transmission

Factory Five Mk4 Roadster Short Block Pro Pack
Factory Five Mk4 Roadster Cylinder Heads and Valvetrain Pro Pack
Factory Five Mk4 Roadster Induction and Fuel System Pro Pack
Factory Five Mk4 Roadster Ignition System Pro Pack
Factory Five Mk4 Roadster Oil System Pro Pack
Factory Five Mk4 Roadster Transmission Pro Pack

Exhaust

Exhaust: Factory Five custom ceramic-coated headers and polished stainless steel side pipes
Engine Assembly By: SKJ Customs, St. George, UT


Exterior

Modifications: Factory Five hood scoop, chromed driver-side roll bar, polished over-rider bumper kit, windshield wing windows, and aluminum brake duct screens
Paint Color: Summit Racing Killer Gray Metallic with Viper Red stripes
Body Work By: SKJ Customs, St. George, UT


Interior

Modifications: Factory Five vintage-style gauges, Simpson four-point racing harness
Upholstery: Factory Five leather roadster seats