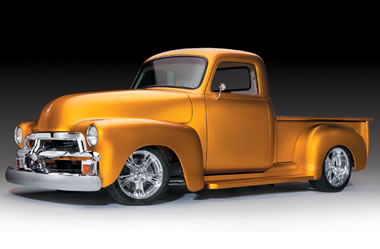 4/5/2013
From Rust to Gold: Jeff Matauch's 1954 Chevy 3100

When the Matauch family finished this stunning 1954 Chevrolet 3100, they did what most families would do—snap a photo.
Not only to remember the moment, but to compare it with one they captured nine years earlier on the day the project began. "My son Jacob got much taller and the trees in the yard grew bigger…man, it's crazy how the years pass by," recalls Jeff Matauch.
In almost a decade's time, Jeff and Jacob transformed a heap of rusted American iron into a golden, award-winning street rod. "I remember when we brought that truck home; I was nine years old," says Jacob, "I'd watch Dad work on it all the time. Then, I started to help him. I learned a lot about how to build a hot rod, and we'd spend hours bouncing ideas off each other."
On day one of the build, Jeff never thought the project would go this far. "I'd see something cool at a car show and wonder, could I do that? I bet I could…" says Jeff, "…then, Jacob and I would go over our build ideas and talk about how it would look when it was done." In those moments, their project list would grow and grow.

With Jeff's can-do attitude, he bought his very first welder. He slowly learned how to lay a good bead and then began to tackle the larger tasks, like boxing the bed rails and running board brackets for a streamlined appearance. Jeff recruited some help to have a custom frame built for the 3100. When it was complete, he took the time to grind and smooth every weld and fabricate custom covers for all the access holes. Jacob was always by his side watching, learning, and ready to lend a hand.

After the metalworking was wrapped up, Jeff set out to do what he does best. "My day job is bodywork and paint, so I knew I had to do something amazing with this truck," says Jeff. He shaved the door handles, drip rails, and windshield wipers, then he reshaped the fenders to perfectly match the curvature of the hood. He even gapped all of the seams to exactly 3/16". With the body as straight as an arrow, Jeff searched for the perfect paint to top it off.

"Gold hotrods have always caught my eye. So I decided to try and build my own blend. It needed to be crisp, clean, and almost glowing," says Jeff. For months, Jeff, Jacob, and fellow paint pro, Bryan Gunn, meticulously crafted the truck's final color. "We went through over 20 different paint combinations before finding it…countless test sprays, it was tough!" Jeff says. But it was well worth the effort! The end result looks just like what Jeff named it, Liquid Gold.

Next, Jeff set out to create an interior as custom and eye catching as the 3100's exterior. "I was going to use ostrich for the upholstery, but I went with something a bit more unique," says Jeff. He decided to accent the silky smooth, light almond leather with genuine alligator. That's right, real gator skin! "It's a funny story. I painted a hunter's motorcycle and he gave me a full 16 ft. alligator skin in return. I still have three-quarters of it left," says Jeff.

At this point in the project, Jeff and Jacob knew they were on the verge of building something great. "It crossed our minds that it could be a show-worthy truck," recalls Jeff. So after years of elbow grease, they decided to kick things up a notch and see where it'd take them.

They dropped in a brand new ZZ502 crate engine with a GM 700-R4 transmission, added a fully customized exhaust system with classic Flowmaster Super 44 mufflers, and tricked out the suspension with RideTech ShockWave air shocks. They finished things off with an oak bed floor and added plenty of dress-up parts throughout the truck for that show-quality shine.

"I spent my summer and winter breaks, plus my birthday, polishing every part of the truck…" recalls Jacob, "…and it was worth every second. It was fun!" The attention to detail didn't go unnoticed by others either. The Matauch family took home several awards from the 2012 Detroit Autorama, including 1st place in the Full Custom Truck category, Best Truck in Show, and Outstanding Display. They also won Truck of the Year at the 2012 Columbus Goodguys and the 3100 was recognized as a Rad Ride by the Troy Builder's Choice Awards at the 2012 Indianapolis Goodguys.

"It's been an amazing journey," says Jeff, "I never imagined the truck would look like this!" But that's what happens when you invest so much heart into a project—every square inch shines.

So what's next for the Matauch family? Jacob is already working hard on his very own project—a 1966 Mustang. As we all know, once you catch the hotrod bug, you'll always have a wrench in hand.

Story By: Eric Bailey
Art Direction By: Lance Nemes
Photography By: Maguire Photographics



FAST SPECS

Chassis
Frame: Custom built with 2" x 4" tubing, painted PPG Envirobase metallic gray, clear coated with PPG D8152 Glamour Clear
Front Suspension: Polished stainless steel Mustang II-style A-arms, RideTech ShockWaves, custom chrome 1" stabilizer bar
Rear Suspension: Custom 4-link with RideTech ShockWaves
Frame and Suspension By: Fatman Fabrication
Rear Axle: Currie Enterprises 9" with a Strange Engineering 3.70:1 ring-and-pinion
Brakes: Wilwood 4-piston calipers with 12" drilled and slotted rotors (front and rear)
Wheels and Tires: Billet Specialties Riviera wheels (17 x 7 fronts, 18 x 8.5 rears) wrapped in BFGoodrich g-Force T/A KDW tires (225/45ZR17 fronts, 255/45ZR18 rears)
Other Items: Unisteer Performance Mustang II rack-and-pinion
Engine and Transmission
Engine: Chevrolet Performance ZZ502 crate engine
Induction: Demon Triple-D intake manifold with three SixShooter 250 cfm 2-barrel carburetors
Ignition: MSD Pro-Billet distributor, MSD Blaster coil, MSD 6AL ignition controller, MSD 8mm wires
Exhaust: Custom 2 1/4" headers, Flowmaster Super 44 Series mufflers, custom cutouts
Transmission: Custom Phoenix Transmission GM 700-R4
Other Items: Aeromotive A1000 Stealth fuel pump, Billet Specialties pulley kit, Edelbrock Victor Series water pump, Tuff Stuff Gear Reduction starter, Powermaster Street alternator, Summit Racing stainless steel hoses
Body
Modifications: Shaved drip rails/windshield wipers/grille lettering, filled cowl vents, smoothed running boards, fenders reshaped to match hood curvature, custom oak bed with 12 coats of PPG D8152 Glamour clear and boltless stainless steel bed strips, custom pinstriping throughout
Paint Color: PPG custom mix—Liquid Gold; PPG D8152 Glamour Clear
Body Work and Paint By: Jeff Matauch
Pinstriping By: Jeremy Seanor at Lucky Strike Design
Interior
Modifications: Transplanted 1958 Chevy truck dashboard, wrap-arounds cut and molded to inner door window moldings, custom fabricated air vent panel/air shock panel, and push-button ignition
Components: Glide Engineering bench seat upholstered in light almond leather with genuine alligator accents, Vintage Air Gen-II Compac universal climate control system, Auto Meter Old Tyme gauges, modified Lecarra Mark 10 steering wheel
Interior By: Chris Pate
Special Thanks To
Jim Ostrand, Pat and Dan O'Connor, Jim Filipowski, Jeremy Seanor, Ken Galdes, Bryan Gunn, my son Jacob, and an extra special thanks to my wife Julie for her support with this nine year obsession