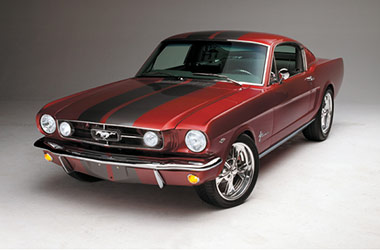 5/30/2014
Anniversary Edition: Lou Anne and Sean Ripp's 1965 Mustang Fastback

Love makes us do some crazy things. From spray-painting overpasses to conquering nations, we all choose a different way to express it. However, few tokens of affection measure up against this 1965 Mustang fastback built by Sean Ripp as a gift to his wife, Lou Anne.

"I bought it as a twentieth anniversary present to Lou Anne, and it was supposed to be ready for our twenty-fifth," explains Sean. "But it was not," adds Lou Anne.

This love story begins at the 2001 Syracuse Nationals—one of the biggest gatherings of hot rods on the East Coast—going on not far from Sean and Lou Anne's home in Sackets Harbor, New York. Swept up in that alluring display of horsepower and chrome, the couple's affinity for classic muscle snowballed into a full-blown love affair when they decided to embark on a restoration of their own.

"We were originally looking for a convertible, but after a few months of searching, we decided they were way out of our price range," recalls Sean. But like any good relationship, the Ripps were willing to compromise, allowing a friend to set them up with a '65 fastback that he had found for sale locally.

"When I went to take a look at the car, I brought a couple of Chevy friends along," explains Sean. "I knew that if they couldn't find anything wrong with the car, I had a good one." And beside some pinhole rust spots in the floor pan and rear quarters, a clutch on its last legs, and (of course) that big, galloping pony badge filling the grille, not even Sean's Bowtie-biased buddies could find fault with the Mustang. In fact, it seemed the car was nearly perfect, except...

"It was freakin' orange," Lou Anne chimes in. "Ford called it 'Poppy Red,' but that thing was orange—and I don't have any clothes to match that!"

Clashing color scheme aside, Sean and Lou Anne took the plunge, landing a great driver complete with a 289 under the hood—more than enough to keep things steamy while Sean amassed a mountain of new old stock parts to kick off his concours-quality restoration. But after three years of chasing down pristine resto parts, the honeymoon came to an abrupt end.

"We were pulling the car out of storage and the engine caught fire!" recounts Sean. "The seal on the fuel filter dried out over the winter, and the gas ignited when we started the car." Thinking quickly, Sean doused the flames with a fire extinguisher, escaping disaster with just a few melted hoses, some blistered paint, and a little collateral damage caused by the extinguisher, itself. (Let this be a lesson to always use a Halon extinguisher for car fires.)

With all the 289's combustion packed back inside the engine where it belongs, Sean decided the time was right to pull the motor and send it out for a complete rebuild. Reeve Enterprises in Cazenovia, NY took the job, boring out the block .030" and dropping in a set of Federal Mogul aluminum pistons, adding an Edelbrock Performer intake manifold and matching 600 cfm carb, plus a slightly hotter (pun intended) cam from COMP cams.
That engine overhaul blazed a trail away from Sean and Lou Anne's original goal of a factory-perfect restoration, and down a much more customized, resto-mod path.

"You can only see so many Mustangs before they all start looking the same. We wanted something different," says Sean. And with that, the couple brought the car to Randy Bailey at Bailey's Auto Refinishing in Carthage, NY, where he and Sean spent the next three-and-a-half years of nights and weekends prepping the body and applying that OEM-inspired, but altogether original Redfire Metallic paint job.

"We were trying to decide on a color; Sean wanted blue, I wanted red," says Lou Anne. "Then I spotted this beautiful red 2004 Mustang driving around town, and I knew that was right color for our car. I wound up chasing the lady until she stopped at a gas station so I could get the color code off her door!" To help offset the deep red, Sean and Lou Anne added a pair of rally stripes in Ford Mineral Gray, reminiscent of a classic Shelby Mustang.

Underneath that pristine paint, the chassis received its own complement of upgrades, including Baer disc brakes at all four corners, 18" Billet Specialties SLC65 wheels wrapped in Goodyear Eagle RS-A rubber, 1" lowered suspension, Flaming River manual rack and pinion steering, and a Traction-Lok differential housed in the Mustang's original 9" rear end.

Returning to the Ripp's garage with an overhauled engine and perfect paint job, the Mustang's final assembly was left to Sean, his brother Mike, and his son Adam. Sean and Mike ran custom wiring throughout the car and fitted it with modern amenities like power windows and remote door locks. Meanwhile, Adam lent a hand (and plenty of elbow grease), polishing every piece of the Mustang's stainless steel hardware to a brilliant shine. When an army of electrical gremlins left the guys stumped, they recruited Dave Edgerton of Distinctive Street Rods, in Camden, NY to get the fastback up and running.

Finally, Sean and Lou Anne treated the Mustang's threadbare interior to the same level of better-than-new polish. With a little help from Rich Perez of R P Interiors in Horseheads, NY, the original seats were swapped for a set of sport buckets from TEA's Seats, and the steering wheel was replaced with a unit from Billet Specialties. Finally, everything was expertly wrapped in ultra-supple Euro Hyde leather customized with some incredible stitchwork.

Proving that love conquers all, after an engine fire, a complete design change, and seven years of assembly, Sean finally completed the Mustang for his wife just one week before their 30th anniversary. Sure, the traditional gift that year would have been pearls, but Lou Anne assures us that there's no better way to celebrate than with a couple thousand pounds of Detroit iron.

Photography By: Bruce Gates Photography
Art Direction By: Lance Nemes
Story By: Dan Michaud

FAST SPECS

Chassis
Frame: Fully painted chassis (Redfire Metallic clear coat), custom subframe connectors
Suspension: Stock front springs with one coil removed, stock rear springs with custom
1" lowering blocks
Wheels and Tires: Billet Specialties SLC65 wheels (18 x 7 front; 18 x 8 rear); Goodyear Eagle RS-A tires (P225/45R18 front; P235/55R18 rear)
Brakes: Baer 2-piston disc brakes with drilled and slotted rotors (13" front; 11" rear)
Other Items: Flaming River manual rack-and-pinion steering

Engine and Transmission
Engine Type: Ford 289 (bored over .030")
Camshaft: COMP® Cams hydraulic flat tappet
Induction: Edelbrock Performer 600 cfm carb, Edelbrock Performer intake manifold
Ignition: PerTronix Flame-Thrower billet distributor and coil
Cooling: Reproduction three row radiator, SPAL fan and custom fan shroud
Exhaust: Tri-Y headers with ceramic coating, custom-bent 2" diameter polished stainless steel tubing, Stainless Works polished mufflers
Transmission Type: Ford Toploader 4-speed
Other Items: Federal Mogul cast aluminum pistons, March Style Track pulley system
Engine Work By: Reeve Enterprises (Cazenovia, NY)

Body
Modifications: Rear valance smoothed into quarter panels
Paint Color: Ford Redfire Metallic with Mineral Gray stripes
Paint Work By: Bailey's Auto Refinishing (Carthage, NY)

Interior
Modifications: TEA's sport bucket seats in medium gray leather, Electric Life power windows and door locks, Dynamat sound deadening
Steering: Flaming River tilt steering column, Billet Specialties Holeshot steering wheel
Other Items: Auto Meter Phantom voltage and oil pressure gauges hidden in glove box, custom English wool headliner, billet aluminum pedal covers, custom upholstered trunk
Interior Work By: R P Interiors (Horseheads, NY)

Special Thanks
Adam Ripp, Mike Ripp, Randy Bailey, Patrick Reeve, Dave Edgerton, Rich Perez