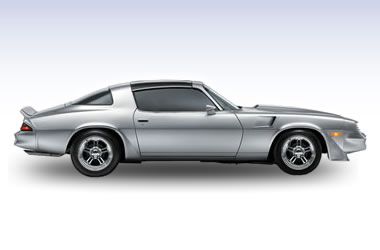 2/10/2012
Second Look: George Paul's 1980 Camaro Z28

Every car guy has a story about the one that got away. You know, the Tri-5 in the old barn off of the highway, or the 40-year-old creampuff the nice lady down the street sold to someone else for $500.00. It can keep you awake at night.
You can sit and wait for a second chance to come your way, or you can work your tail off to make up for those missed musclecar opportunities. Michigan native, George Paul poured a lot of love, sweat, and nine years of constant improvements into his second chance of sorts—this gorgeous 1980 Chevrolet Camaro Z28.
"I guess you could say second-gen Camaros are in my blood," says George, "My parents had an '80, and I always thought that car would be mine one day." Sure enough, the F-body stayed in the family, but it went to his brother instead. Years later, George acquired his own Camaro and that's where the story gets good, right? Well, almost.

"We had to let that one go to make a down payment on a new home," explains George with a sigh. "My wife cried when we sold it, but I knew I'd make it up to her… eventually." In 2000, George found his second chance waiting in a local auto-trading publication: a 1980 Z28, just back from an extended stay in the California sun.
Although the Z was substantially solid and equipped with T-tops (both must-haves according to George), his wife and two daughters were unimpressed with the car's lackluster appearance. "The girls just didn't share my vision of what this car could be. So right away, I did what I could to make the Z28 look better without spending a ton of money," says George. His beautification program included removing some shopping-cart inflicted door-dings, color-matching the paint, and redoing the interior in blue and white vinyl.
To most guys, reviving a car's cockpit with anything more than a set of slip-on seat covers and a pair of fuzzy dice requires a major cash outlay. As it turns out, George is a skilled interior craftsman who's worked for a long list of high-profile clients (you can usually find samples of his work at the annual SEMA show in Las Vegas). "That blue and white interior was a freebie for me," says George slyly.
Next, he tightened the Camaro's ride with a set of KYB shocks, a beefy sway bar, Energy Suspension body mounts and bushings, Hotchkis Sport Suspension front lowering springs, and he even took about 1 1/2" of arc out of the rear leaf springs. "The car has the right stance and it handles like a dream," says George, "but I'm always on the lookout for potholes. Those Michigan streets can really rattle your T-tops!"

With the F-body riding right, George planted some real power under the hood. He ditched the factory 305 and dropped in a potent GM Performance Fast Burn 385 crate engine all by himself. "I thought about building an engine, but dollar-for-dollar, you just can't beat the performance and reliability of a good crate engine," he explains.
The 385 hp small block is fed by a Holley 670 cfm Street Avenger carburetor while a TH-350 transmission with a B&M shift kit and ARI torque converter send the GM horsepower to the rear wheels. A GM HEI distributor and MSD ignition components bring the fire, and a March Performance polished billet serpentine setup keeps the engine accessories spinning in perfect time.
By this time, it had been several years and the Z had a new engine and interior, plus a revamped suspension system—good to go right? Well, George had other ideas. "I wanted to take the car to the next level. I didn't think it would ever win any awards, but I just wanted people to stop and take a second look when they walked by."
He knew the Camaro needed a spectacular paint job and thought good and long about color choice. "My first pick was Arctic White which matched the interior, but it just didn't seem exciting enough," recalls George. Ironically, he pulled the trigger on a stock GM color—2007 Corvette Silver. George sent the car out for paint and bodywork; a process that took around about nine weeks, and also gave him plenty of time to design a second custom interior.
When the F-body returned from the shop, George jettisoned the two-tone interior and went to work covering a pair of donated Pontiac G6 seats and the rest of the interior in supple black leather. "The black interior and silver paint job was a great combination, but it still needed something to make it extra special," says George.
Inspiration for that special something came from an Italian supercar. "At a car show I saw a Ferrari with metal grommets incorporated into the interior and I decided to give it a try," explains George. "I had used grommets on motorcycle seats in the past, but punching big holes in the middle of an expensive piece of leather made me a little nervous," he adds with a laugh.
The silver grommets in the seats and door panels, plus a Grant 457 Club Sport aluminum steering wheel (which George customized with a Z28 logo) are a perfect complement to the jet-black interior. Outside, a set of Budnik X Series Ice wheels wrapped with BFGoodrich g-Force T/A KDW rubber add the finishing touches to the exquisite silver exterior.

It's been a long journey from his dad's Camaro to the fantastic Z28 that's sitting in George Paul's garage now. "I hope my daughters understand about all of the late nights I spent in the garage working on this car," he says. We're sure they do George, and we're not the only ones who think this second generation F-body is worth a more than second look. The Z took home first place in its class at the 2008 Detroit Autorama. Congratulations George, now try to get some sleep.

Photography By: George Pizzo
Art Direction By: Lance Nemes
Story By: James Millar

FAST SPECS

Chassis
Rear End: Factory 3.42:1 ring and pinion, limited-slip differential
Suspension: Hotchkis front lowering springs (2" drop), de-arched rear leaf springs (1 1/2" drop), KYB shocks, Performance Suspension Components front sway bar, Energy Suspension polyurethane bushings
Brakes: Slotted and drilled front disc brake rotors, factory rear drum brakes
Wheels and Tires: Budnik X-Series Ice aluminum wheels 17" x 8" front, 17" x 9 1/2" rear; BFGoodrich g-Force T/A KDW tires 245/45R17 front, 255/50R17 rear
Engine and Transmission
Engine: GM Performance Parts Fast Burn 385 crate engine (9.6:1 compression ratio, 385 hp @ 5,200 rpm/385 ft-lbs. @ 4,000 rpm)
Induction: Holley Street Avenger 670 cfm carburetor, Edelbrock EnduraShine Performer Air-Gap intake manifold, K&N X-Stream Air Flow air cleaner
Ignition and Electrical: GM HEI distributor, MSD coil and 8.5mm ignition wires
Exhaust: Hooker Super Competition headers, 2 1/2" custom stainless steel exhaust, Flo Pro V Force mufflers
Other Items: Griffin aluminum radiator, custom aluminum fan shroud by Eric Gorges
Transmission: TH-350 by Bill's Transmissions, B&M shift kit, ARI 2,800 rpm stall speed torque converter

Exterior
Body: 1980 Camaro Z28
Paint: GM 2007 Corvette Silver
Paint and Body Work By: Matt's Paint Shop
Other Items: Soffseal weatherstrip kit, Summit aluminum fender reinforcing bars
Interior
Upholstery: Black leather accented with aluminum grommets on seats and door panels, Pontiac G6 seats, custom leather center console and package tray, black carpeting
Upholstery By: George Paul
Other items: Grant 457 Club Sport aluminum steering wheel, JVC CD player, Kicker speakers
Awards
2008 Autorama, Detroit Michigan: First Place, Conservative Hardtop, 1980-89
2011 Autorama, Detroit Michigan: Second Place, Conservative Hardtop, 1980-89


Special thanks to: My wife Kristine, and daughters Kadie and Josalynn, and to my father, whose memory inspired this build.