2/19/2013 - How-Tos
How to Measure Wheel Backspacing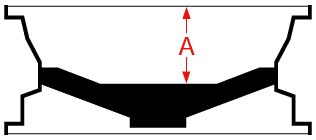 Step One: Take a wheel off your car and lay it on a flat surface with the back side (the one that faces the brakes) facing up.
Step Two: Lay a straightedge across the wheel and measure down to the mounting pad; you may have to deflate the tire to do this. That measurement (A in the diagram above) is the amount of backspacing your new wheels will need.
Please double check the backspacing and bolt pattern of your new wheels before you mount your tires. Once mounted, they cannot be returned.