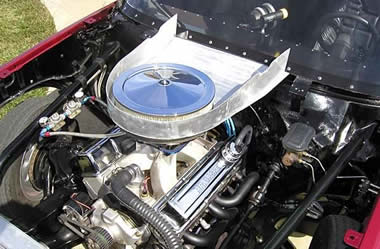 10/28/2005 - Tech Articles
Will It Fit? Engine Dimensions for Popular Swaps
Ever since that first hot rodder dumped his Model A's four-banger for a flathead V8, engine swaps have been a proven way to get the extra horsepower we all crave. Some swaps are no-brainers, particularly when you are swapping an engine for one of the same type—a 347 cubic inch stroker for a stock 5.0L in a Mustang—or going to a bigger engine in a chassis designed to accept it (like a big block in a small block-equipped Chevelle or Camaro).
But if you want to do an engine swap that is off the beaten path, it's time to break out the ruler and start measuring. To help you determine if your favorite powerplant will fit, we have engine specification charts for popular Chevy, Ford, and Chrysler V8 engines. The charts will give you overall height, length and width of a fully dressed engine (oil pan, intake and carburetor, front accessory drives, exhaust), plus weight, starter location, and oil sump location. These measurements are general, and can vary depending on what equipment you or the factory installed.
There are also engine swap kits for putting non-stock engines into popular body styles—big blocks into 1955-57 Chevys or small blocks into Jeep CJs, for example. The kits usually include things like motor mounts and headers designed to provide clearance of the vehicle frame, steering shafts, and the like.
Since there's more to engine swaps than just squeezing the engine under the hood, we also cooked up a list of things to measure and check for to help you perform a successful horsepower transplant. Remember, measure twice, cut once, and start swappin'!
Engine Measurements
Sump
Starter
Engine
Width
Length
Height
Weight
Location
Location
Chevrolet
262-400
396-454
Ford
221-351W*
351C
429-460**
352-427 FE#
4.6L SOHC***
4.6L DOHC***

26"
28"

24"
24 1/2"
27"
27"
28 5/8"
30"


28"
30 1/2"

29"
29"
30"
32"
28"
28"


27"
29"

27 192"
28 1/2"
29"
29"
26"
29 7/8"


575 lbs.
685 lbs.

460 lbs.
550 lbs.
720 lbs.
625 lbs.
600 lbs.
576 lbs.


Rear
Rear

Front
Front
Front
Front
Front
Front


Right
Right

Right
Right
Right
Right
Right
Right
* 351W height to carburetor pad is 23 3/4". 289-302 height ot top of pad is 20 3/4".
Length for all 221-315W Ford is with short serpentine water pump
** Except Boss 429
# Except 427 SOHC
*** Width is valve cover to valve cover. Height is to top of valve covers.
Engine Measurements
Sump
Starter
Engine
Width
Length
Height
Weight
Location
Location
Chrysler
273-360
361-440
426 Hemi

24"
29 1/2"
29"

29"
30"
32"

27"
29"
32"

550 lbs.
670 lbs.
690 lbs.

Front
Front
Middle

Left
Left
Left
Engine Swap Check List
1. Always check measurements with all engine accessories installed. That will help prevent catastrophes like bolting in an engine and finding you have a half-inch of radiator clearance.
2. Select the engine mounting method (rubber mounts, solid mounts, motor plate, etc.) before installation. The mounts used can affect clearances, especially height.
3. Double-check--make that triple-check--hood clearance, firewall clearance, and fan-to-radiator clearance.
4. Make sure driveline angle is correct. You may have to adjust engine location in the car to get the proper angle.