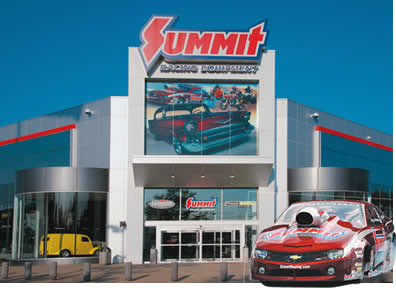 Summit Racing Equipment Timeline
See how Summit Racing Equipment has grown from a part-time business into the world's largest direct marketer of automotive performance equipment:
1968:
Summit Racing Equipment is founded as a part-time, one-person parts business in Stow, Ohio. As word of the company's great prices spreads, the little business begins to grow.
1969:
Summit Racing opens its first store in Akron, Ohio to meet the tremendous demand from drag racers and musclecar enthusiasts. Early offerings included parts from Accel, Holley, Mallory, Hurst, and Mickey Thompson.
1970:
Summit Racing expands into mail order by placing small ads for Mickey Thompson ET Wheels in Hot Rod and Car Craft magazines. The company is soon taking orders across the United States.
1976:
Summit Racing produces its first major mail order catalog. Response is so strong, a full-time sales and customer service staff is hired.
1978:
Summit Racing moves to a four-building campus in Akron. It features thousands of square feet of warehouse space to accommodate more inventory plus office space for the growing sales and customer service staff.
1987:
The Summit Racing catalog goes from a yearly to a bi-monthly publication, full of the latest products and most up-to-date information and pricing.
1992:
Having outgrown its Akron facility, Summit Racing moves to a new, three-story headquarters at I-76 and Route 532 in Tallmadge, Ohio. It features a high-tech distribution center to accommodate more inventory and ship orders even faster, plus a larger Retail Store for local customers.
1997:
Summit Racing joins the Internet age with its own website. SummitRacing.com rapidly expands from a few parts offerings into the industry's go-to site featuring a huge online catalog, tech articles and FAQs, motorsports updates on Drag Race Central, and much more.
1998:
Summit Racing opens a second Distribution Center and Retail Store in Sparks, Nevada. This allows Summit Racing to deliver parts to customers in the western United States within one to two days.
1999:
Summit Racing doubles the size of its Tallmadge headquarters to meet ever-growing customer demand. The company now inventories millions of parts from several hundred manufacturers for everything from drag racing to street rods, circle track, sport trucks, and off-roading.
2002:
Summit Racing opens the doors to its new 25,000 square foot Retail Super Store in Tallmadge. The store has thousands of parts on display, knowledgeable staff to help customers with parts selection and ordering, and room to showcase customer and special interest vehicles.
2006:
Summit Racing opens its third Distribution Center and 25,000 square foot Retail Super Store at I-75 and Route 155 in McDonough, Georgia. Summit Racing can deliver parts to customers in the southern United States within one to two days.
Summit Racing introduces a new Tools and Garage Accessories catalog featuring hundreds of hand and power tools, shop equipment, paint and bodywork supplies, and more.
2007:
Summit Racing acquires Genuine Hotrod Hardware, which specializes in hot rod lifestyle products such as die-cast collectables, retro automotive signs and memorabilia, pedal cars, and apparel.
2009:
Summit Racing launches a new and improved SummitRacing.com website with enhanced search tools for easier shopping.
2010:
Summit Racing continues to expand its lineup of Summit Racing- and Street & Strip-branded products, including a complete line of single stage and basecoat-clearcoat paint, carburetors, intake manifolds, ignitions, and Pro Packs, which give customers matched parts combinations that save them time and hassle.
Summit Racing continues to expand its parts offerings in circle track, Jeep and off-road, restoration, tools, and late model performance.
2011:
Summit Racing adds a large selection of OEM replacement parts, giving customers a large choice of products from top quality manufacturers like Dorman, Standard Motor Products, Delphi, ACDelco, and Bosch. Summit Racing also introduces Landed Cost Delivery service for international customers, delivering parts right to their door with no additional, unexpected charges or fees to pay.
2012:
Summit Racing introduces PowerSports Place, offering thousands of aftermarket and replacement parts for sport and utility ATVs, UTVs, and dirt bikes, as well as safety gear, accessories, oil and lubricants, towing equipment, and tools.
Summit Racing makes ordering even easier with Shared Cart, allowing customers to order anything from PowerSports Place, Summit Racing Equipment, and Genuine HotRod using a single shopping cart and paying just one low delivery and handling charge.