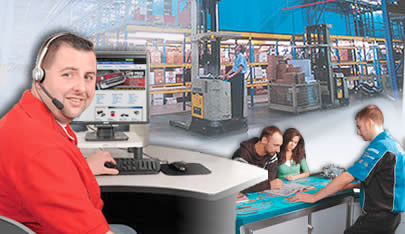 Search Jobs by Department
Warehouse
Job Title:
Putaway
State:
Georgia
Department:
Warehouse
Post Date:
11/24/2014
Hours of Work:
M-F 10:00AM-6:30PM + OT
Duties to be Performed:
The primary purpose of this position are the following: Efficiently, accurately, and safely replenish the primary OFC (warehouse) stocking locations while following established guidelines for both productivity and accuracy standards. Specific responsibilities for the job are as follows: --Restocking primary pick zones with product --Report receiving and/or restock errors to management --Ensure the overall hygiene and order of the OFC primary pick zones --Maintain an efficient, productive, and safe work environment at all times --Other duties assigned by management as needed
Skills and Abilities Needed:
To perform this position successfully, a qualified applicant should demonstrate the following competencies: Above average math and reading skills, the ability to move about the OFC quickly and efficiently, and the adeptness to maintain a consistent pace throughout the shift and during overtime situations. Qualified applicant must be able to lift boxes of up to 40 pounds and be able to carry them up or down stairs. Candidate must be able to withstand a moderate level of noise in a production environment, climb stairs and ladders, and adapt to seasonal building temperature changes. Last, an applicant must display a willingness to make quick and accurate decisions based on information obtained, and be able to support and explain reasoning for decisions to management. Other personal characteristics that would assist a candidate to successfully perform this job include: --A strong customer service focus --Following instructions and responding to leadership direction --Striving to increase both personal and team production --A commitment to long hours of work when necessary
Experience/
Education Required:
An individual must be able to perform each essential duty satisfactorily. The following requirements are representative of the knowledge, skill, and/or ability required to perform this job: Candidate must possess a High School diploma; prefer applicants with previous order fulfillment experience.
Must live in or be willing to relocate to the McDonough, Georgia area.