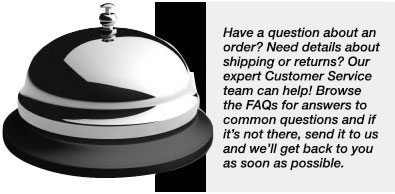 Frequently Asked Questions (FAQs)
Have an order or business related question?
You can find answers to many questions by browsing our FAQs (Frequently Asked Questions).
Order Questions
Get the answers to common questions about our order process, including:
Shipping Questions
Get the answers to common questions about our shipping options, including:
Current Browsers
To get the most from the Summit Online store, you need to use a
current browser. We recommend Internet Explorer and Firefox
Call, Fax, or Mail Us
Customer Service Line
Check Order Status - you can track your order right to your doorstep.
1-800-230-3030
You can check your order or return an order you've received.
Tech Help
1-330-630-0240
9 am to 9 pm EST Monday through Friday, for help with parts installation or application. Please have all relevant vehicle information ready when you call.
Order by phone
1-800-230-3030
Use the Summit Order Line to place an order, get technical assistance, or check on product availability. The Order Line is open 24 hours a day, 7 days a week.
Fax your order
1-330-630-5333
Mail in your order
You can also mail your order to us at:
P.O. Box 909
Akron, OH 44309-0909
¿Hablas Español?
Línea en Español: 1-330-630-1626
Libre de cargos 1-800-517-3428
Fax: 1-330-630-5568